| | |
| --- | --- |
| | 'A land of contrasts' is a standard phrase that is particularly appropriate when talking about the continent called Australia: it is the world's oldest landmass, but the youngest Western nation; it is inhabited by the world's oldest continuous culture, the Aboriginal culture, alongside a European-based society barely 200 years old. Antipodean nature is famously reversed: trees that shed their bark, but not their leaves; black swans; even mammals that lay eggs. The landscape is for vast expanses unrelievedly harsh and uninhabitable, while the relatively meagre population—fewer people than the state of New York in a land the size of the United States—live in overwhelmingly benign climates along the coasts of the country. The Great Red Centre of Australia is as far removed from the realities of urban Sydney life as it would be if it were on another continent altogether—and yet, the centre's pervasive presence has forged much of what can be called Australianness. Understandably, these contrasts have produced a fascinating culture and people, more complex than usually admitted in tourist brochures. |
Planning your trip
Getting around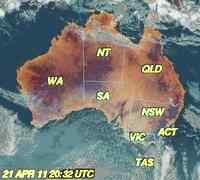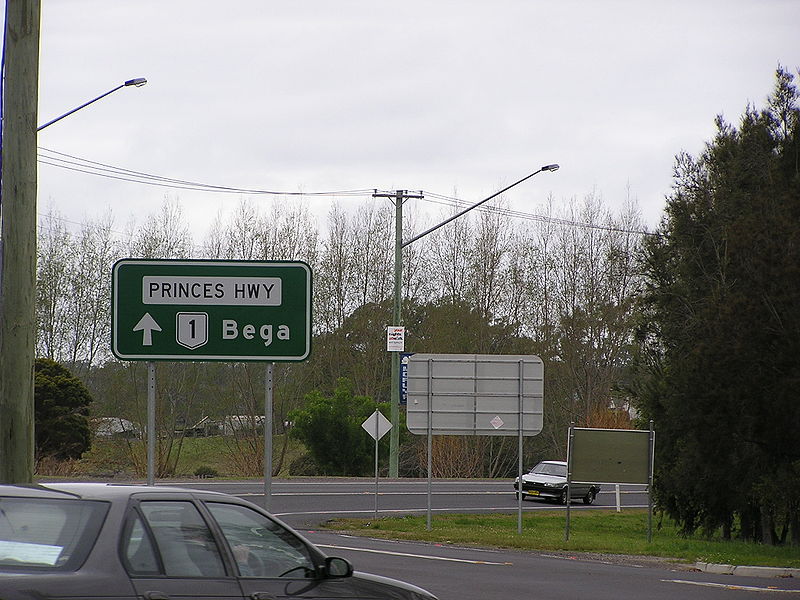 Health
Holidays and festvals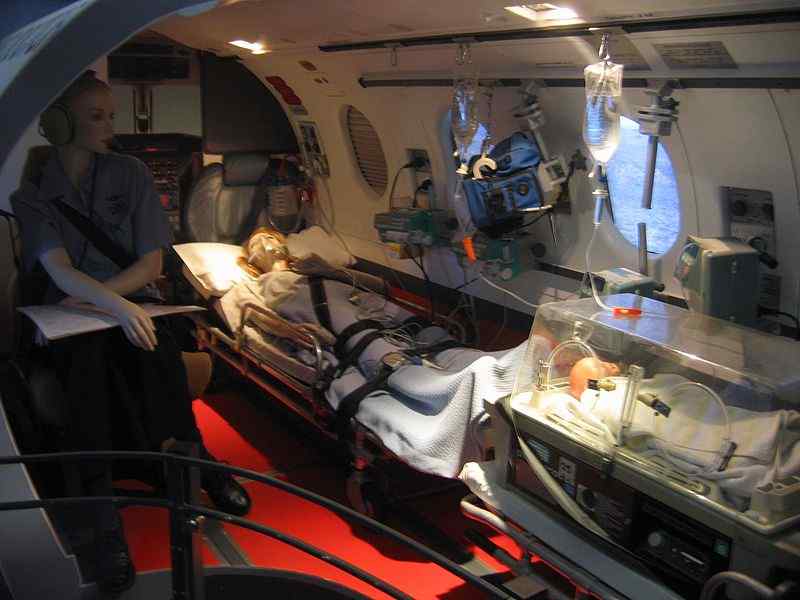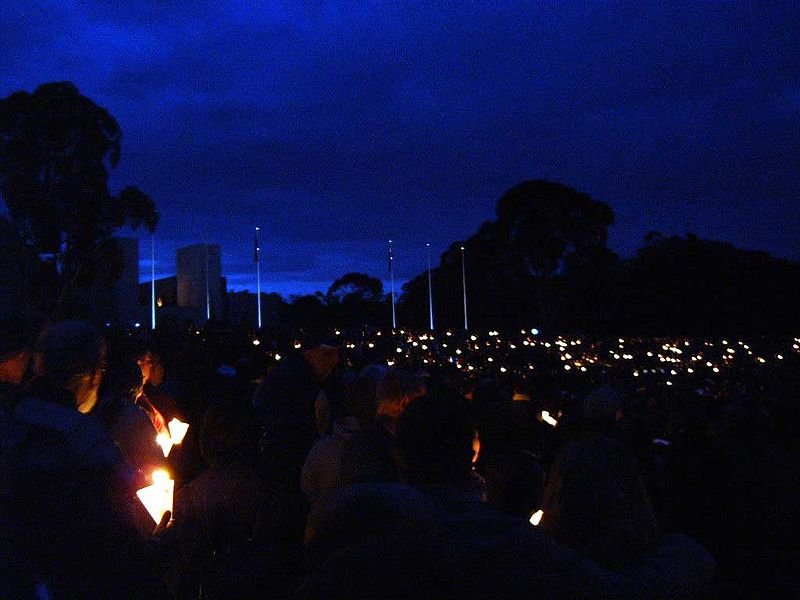 Sport
Food and Drink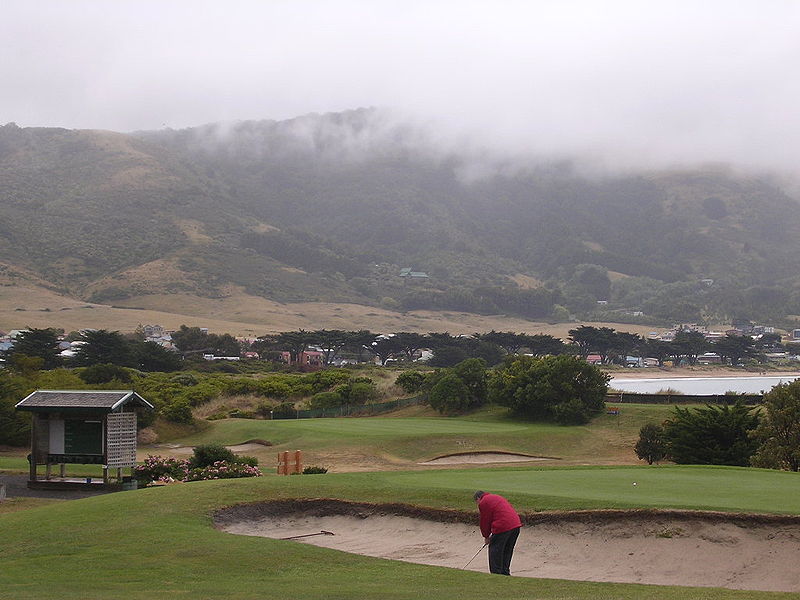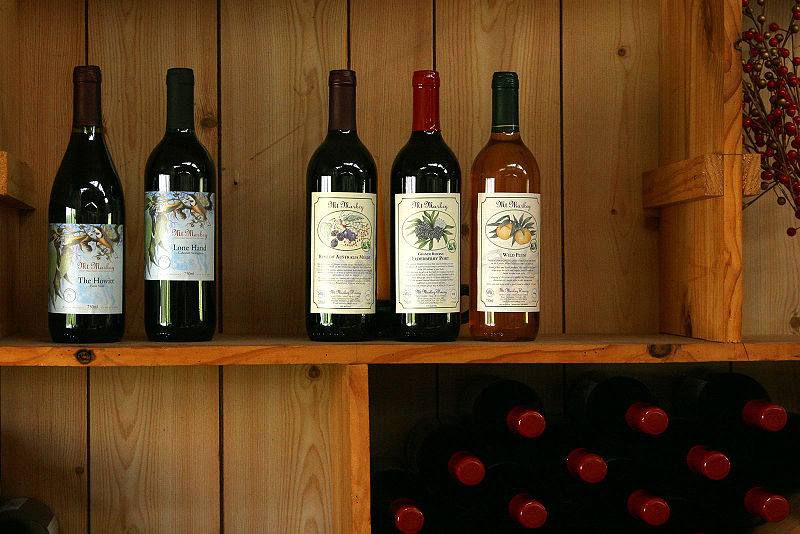 Service
Language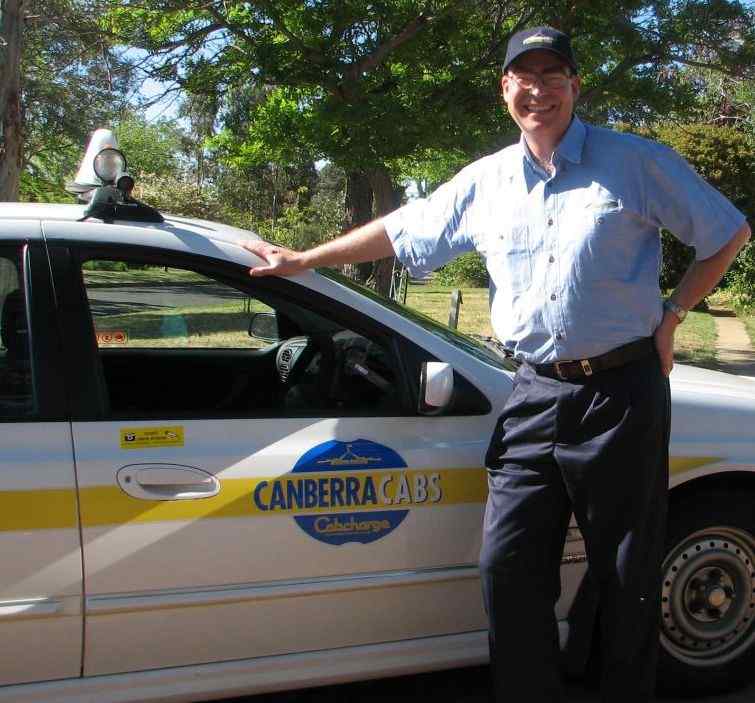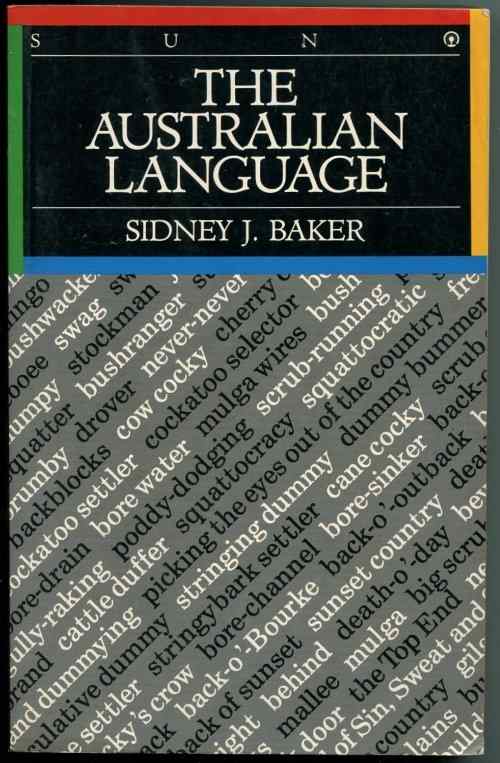 For the purposes of this guide, we have tried to illuminate this culture and this land for the visitor interested in more than theme parks and trips to the beach (although the latter is one of the greatest Australian experiences, not to be missed!). We have concentrated most intensely on the Australian cities and Australian material culture, although we have also elected to examine some of the most important aspects of Australia's natural landscape and its famous wonders, as well as some observations about Aboriginal indigenous culture. We hope that we have done as comprehensive a job as we could on those regions and places we have covered. We welcome, of course, all suggestions and outcries concerning omissions; we will be most grateful for readers' advice and corrections, and hope we can incorporate as many as possible into a second edition. Australia changes constantly, an admirable quality and something that we, as New Australians, love about the place; but it leads to predictable errors in all 'time-bound' information when writing a tour guide such as this one! By all means let us know about your experience of Australia, what you found useful and what else you think should be included in this guide; we really look forward to hearing from you.
Click to send us an email.
---
When to go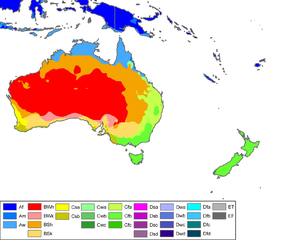 (click to enlarge)
As an island continent, Australia has a great diversity in climate and geographical variation; but its status as one of the world's oldest landmasses means that there have been no major seismic upheavals for millions of years, making the land relatively flat and the driest continent outside Antarctica. Extremes in temperature run towards the hot end of the scale. Although snow occurs in the mountainous regions, even Tasmania, at the same latitude in the south as New York City in the north, escapes extended periods of frigid weather, while the enormous interior regions experience some of the hottest and driest conditions on earth; all of the major cities can reach temperatures over 40°C in the summer (although rarely in Hobart in Tasmania). While the desert areas will be fiercely hot during the day, at night temperatures can be bitterly cold. Canberra and the nearby Snowy Mountains, New England's upper plateaus, and parts of Tasmania are the only areas that have four weather seasons as visitors from the Northern Hemisphere understand them. The real distinctions, especially in the tropical north, involve rainfall: the northern 'Top End' defines climate as 'The Wet', running from December to March with monsoonal downfalls, and 'The Dry', from May to October when very little rainfall occurs. If you enjoy humidity, go to Queensland and the most northern regions of the country at any time of the year.
Sydney prides itself on its moderate climate, although summers can often be quite rainy; Melbourne, on the other hand, is famous for its changeable but wet weather, although summers can at times be quite hot (as anyone who watches the Australian Open Tennis Tournament in January can attest). The water temperature at beaches in southern New South Wales, Victoria and Tasmania are always bracing and in some places downright frigid.
Overall, the best times to visit Australia are April and September, when most regions will be comfortably warm and clear. The important thing to remember is that the seasons are reversed in the southern hemisphere: Christmas time is at the height of summer, and July is the middle of winter.


Tourist information
As a country increasingly geared towards tourism, Australia's tourist offices will provide the overseas visitor with vast quantities of travel information of all sorts, and the local tourist boards in every city will positively inundate the visitor with local information, including excellent free regional and city maps. Cultural and historical information as provided in this guide is more difficult to find through tourist agencies.
Please verify the particulars of following; they were correct as of 1998 and have been revised a couple of times since then.


The formalities
Visas
Until recently, anyone visiting Australia (except New Zealanders, who are exempt from visa requirements, and need only a valid passport to enter the country) had to apply for a visa through the Australian consulates. Now visas for stays shorter than three months are lodged electronically by the traveller or, more conveniently, by the airline or travel agent from whom you purchase a ticket. These short term ETA visas are free and require simply a passport as documentation. http://www.eta.immi.gov.au/

Visas for longer visits must be lodged by post at a consulate and require banking records to demonstrate that the traveller has sufficient funds for their visit, currently about $1000 per month's stay. There is a small application fee for these visas; extensions of visas applied for in Australia, on the other hand, will cost as much as $200.
Working holiday visas are available for up to a year for young (18–30 years old), single citizens of the UK, Ireland, the Netherlands, Canada, Malta, Korea and Japan, to name a few. Other countries' citizens may also apply under more restrictive conditions. Working holiday visas allow visitors to work at temporary or casual jobs such as fruit-picking, seasonal restaurant work, or au pair/housekeeper. The Commonwealth Employment Services used to publish a pamphlet called "Summary of Seasonal Crops Normally Requiring Labor During Harvesting Periods," here as a 3,500 KB pdf, or as quite small jpg pages 2, 3, 4, 5, 6. Specifically, you need a certified bank statement saying that you have $5000 in your account, a return fare plane ticket, and $360 for the application fee. Check the blogs, but the received wisdom is that your $5000 will last an entire year if you work more or less steadily.

Customs
Australia has stringent customs regulations regarding animal products, plants, and many other agricultural items, as well as firearms and prohibited goods such as drugs and poisons. All of these regulations should be explained at the time you purchase a ticket, and will certainly be explained before landing (briefly, you are allowed 1 litre of alcohol, 250 cigarettes and dutiable goods up to $400). Bins for disposal of prohibited items appear the minute you arrive at the airport, and customs dogs will sniff out any forgotten bits of fruit or other vegetative matter; Australian Customs is rightfully proud of the abilities of their sniffer dogs. Be sure to pay attention to restrictions; any goods in violation will be confiscated and if a serious violation, you may be denied entry or be arrested. Do not even consider breaching the regulations with prohibited goods.
Disabled travellers
The 2000 Olympic and Paralympic Games prompted Australian tourism services and businesses to be more aware of the needs of the disabled in terms of access to buildings and other requirements. The 1992 Disability Discrimination Act ensures equal rights to all people with disabilities, and the Building Code of Australia requires that all new hotels and motels incorporate a certain number of rooms which are accessible to those in wheelchairs and with other special requirements. Some legislation is in place to ensure such services, although national laws are not yet enacted, and not all facilities will be equally provided. Most established venues in Australian cities, such as museums, art galleries, and restaurants, and most tourist resorts provide conscientious services for those with special needs, including toilet facilities and accessible lifts.
NICAN, an Australia-wide information service on sport, recreation and tourism for the disabled, has a database on accessible accommodation and tourist attractions around the country; t 1800 806 769 or (02) 6241 1220, website: http://www.nican.com.au.


Currency
Australian currency is the Australian dollar, divided into 100 cents. Bank notes are in $100, $50, $20, $10 and $5 denominations. Some money made out of real paper still circulates, but new notes are made of 'forgery-proof' plastic with hologram inserts; they are supposedly more secure, but they look and feel like play money and easily fly out of pockets. Coins are widely used, including $2 (the smallest but thickest 'gold' coin), $1, 50 cents (largest 'silver' coin), 20, 10 and 5 cents. 1- and 2-cent coins were withdrawn from circulation in 1995; in shops, prices are rounded off to the nearest 5 cents.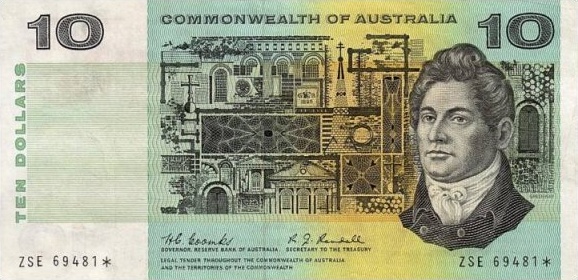 Figures commemorated on the most recently released currency are:
$5: Queen Elizabeth, a very controversial choice at this stage, when moves toward a Republic are afoot
$10: A B 'Banjo' Paterson (1864–1941), author of 'Waltzing Matilda' and The Man from Snowy River, verso Mary Gilmore (1864–1962), Australian poet and activist, known for her verses on themes of love and courage
$20: Mary Reibey (1777–1855), ex-convict businesswoman, founder of Australia's first financial institutions, verso John Flynn (1880–1951), missionary and founder of the Flying Doctor Services
$50: Edith Cowan (1861–1932), social worker, activist, and first woman member of state parliament (Western Australia), verso David Unaipon (1872–1967), first Aboriginal to have a book published in Australia (Native Legends, 1929)
$100: Dame Nellie Melba (1861–1931), opera singer, verso John Monash (1865–1931), army commander and hero at Gallipoli
Credit cards are readily accepted. Automatic bank tellers, or ATMs, are widely used and are available throughout the country (although not so readily in the country areas). EFTPOS (Electric Funds Transfer at Point of Sale) services are also available at many shops, service stations, and supermarkets for those with bank cash cards, and will allow you to receive cash along with a purchase. Bank cards are available to those with accounts at an Australian bank. If staying for more than a short time, it may be worthwhile to set up such an account, which is quite easy to do, as long as you can produce adequate identification (more than a passport in some cases).


Getting there
Let's face it, flying to Australia is really the only efficient and easily available option. The days of the overland 'hippie trail' through Asia are no more, although some adventurous souls may still attempt the trip; and travel by ship is limited to closely scheduled cruise liners that stop briefly in Australian ports. Some cargo ship accommodation does appear occasionally, but it is apparently not encouraged, and requires that people be ready to go at the last minute. However, if you really do want to take a slow boat to Australia, check with cargo shipping concerns in your country's biggest port. The assumption here, however, is that visitors will arrive in Australia by air.
No matter where the trip begins, whether Europe, America or elsewhere, the flight will be a long one: from Los Angeles direct to Sydney is 13 hours in the air; from Europe, the entire trip will take at least 22 hours and will require a stop somewhere along the way, most likely Bangkok or Singapore.
Unless you have a desire to stop over in Hawaii or New Zealand for several days, try to book a direct Los Angeles–Sydney flight if flying via the United States, as the stopovers do nothing but add several wasted hours to an already long flight. However, if you are flying from Europe and have plenty of time, it is worth considering a stopover in Asia or in the Pacific before continuing on to the continent, if the airline ticket allows it.
Aside from package tours, of which there are an abundance on offer from the UK and the USA, the most reasonably-priced ticket to Australia will often be a round-the-world (RTW) ticket, which also allows other stopovers, including ones to additional Australian cities. Similar kinds of arrangements as an RTW ticket exist as Circle Pacific fares, combining routes on several airlines around the Pacific.
As flights within Australia can be quite expensive, the method of tacking on other Australian destinations to your main ticket may be the best arrangement. All of these arrangements should be done in advance of the trip with the airlines or booking agents. Many tourist packages and travel passes are only valid for overseas visitors and cannot be purchased once you reach Australia.


Accommodation
Every possible kind of accommodation is available for the visitor, from backpacker's hostels to pub-hotels to bed-and-breakfasts and five-star hotels. Many of the standard chain hotels have displays on illuminated hotel boards at the major airport terminals, where you can call directly and make a booking and, in most cases, be picked up by an airport shuttle to be taken to the hotel. For a country so avidly involved in motoring trips, motels are of course quite prevalent, and range from entirely seedy to spotlessly new accommodation. All tourist offices can also help with accommodation. The best guides to accommodation are available through the automobile clubs, i.e. the NRMA and the related state branches. For those interested in staying at bed-and-breakfasts, which are burgeoning all over the country, the best sources of information are the on-line bed and breakfast directories (vis https://www.bbbook.com.au/ and http://bedandbreakfast.com.au/). A long-standing source for youth hostles is at www.yha.org.au. Of course airbnb and Homeaway have a presence here.

It is essential that you make advance bookings if travelling during any of the school holiday periods (as discussed below). High season in the most popular tourist areas will also be busy, and require advance bookings.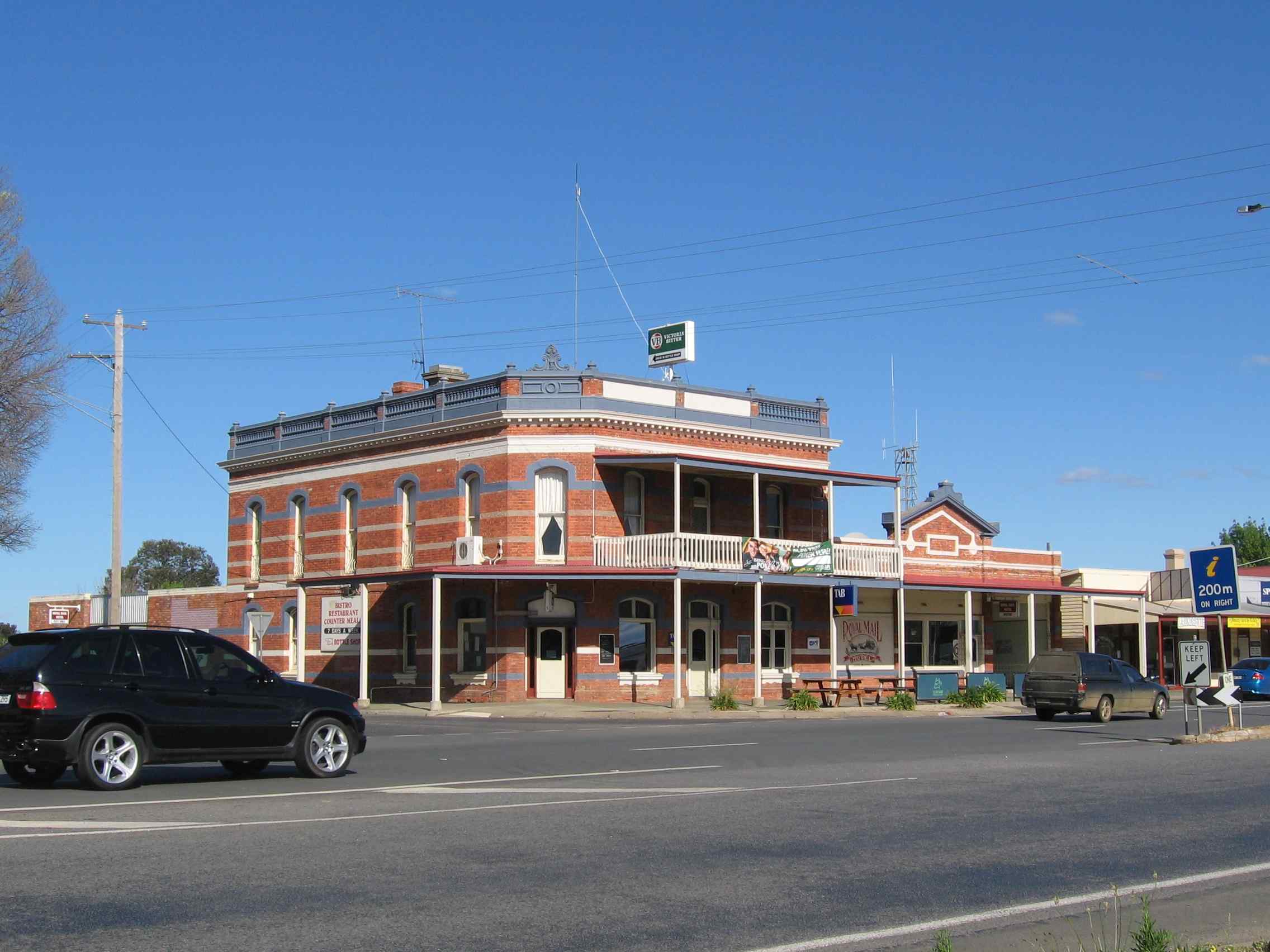 This is perhaps the appropriate place to point out the use of the term 'hotel' in Australia. In many places, and especially in country towns, a hotel is primarily a pub, although some kind of accommodation must by law be made available there. The standard of this accommodation may vary considerably, but will usually be relatively inexpensive and may be noisy, if the rooms are placed directly above a well-attended bar. Don't be detered, though, most are quaint, pleasant, and affordable.

Finally, camping is available in nearly all of the national parks and some independent or local council camp grounds. These camp sites can be booked out during school holidays, so make your bookings early for visits during the summer months. The method of arranging a stay varies from "Please leave your fee in the slot below" once you've found your way, to "Please book and pay your fees ahead of time." Many of the camp sites have attendants who can make the booking on the day. ACT Government Camping, NSW National Parks and Wildlife Camping, Northern Territory Parks List, Queensland National Parks Camp Bookings, National Parks South Australia Camping, Parks and Wildlife Tasmania Parks, Parks Victoria Camping, Western Australia Parks Park Stay,


The enormous distances in Australia certainly make the question of getting around within the country a major consideration. Not only does the traveller have to take into account the time needed to get from place to place, but also the costs involved. Flying is really the only possible solution if time is limited and you want to see several areas of the country. While public transportation is adequate in most urban centres, most country areas are not well-served by bus or train; Australia is very much a land where people depend upon the automobile to get around.
By air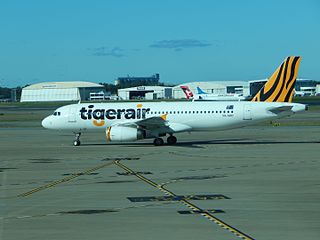 While the airline industry was supposedly deregulated in 1991, attempts to establish other airlines, with more competitive prices, have met with fierce opposition and eventual collapse of the competitor. Consequently, fares for internal flights remain rather high; the current price of a return flight from Sydney to Perth, for example, is as much as a low-season flight from Sydney to Los Angeles. It might be possible to buy discounted passes for several flights if purchased ahead of time and outside the country. Check with travel agents or on-line before leaving home. And remember to include internal air flights on your return flight ticket.
By rail
Except for Sydney and Melbourne, and, to a lesser extent, the other capital cities, rail travel is no longer the usual method for long-distance travel. While it is possible to travel by train between major cities, these links are not necessarily convenient or much cheaper than airfares. The situation with railway passenger service in Australia is very much like Amtrak in the United States: trains do run frequently along the eastern coastline, but only along one rail line and to main towns (the service is Countrylink, t 132 233; website: http://www.countrylink.info). Increasingly, the long-distance runs are designed for tourists with lots of time who are looking for an adventure.
Discussion of urban rail systems will be covered under the city and state sections. There are, however, two interstate railway journeys that should be mentioned here: one is the Ghan, running from Adelaide to Alice Springs; the other is the legendary Indian Pacific, coast-to-coast from Sydney to Perth, taking four days across some of the longest straight track of any railway in the world. Both of these journeys are well worth the effort, with excellent service provided on the trains. An overnight train, The Overland, also journeys regularly between Melbourne and Adelaide. The trips are organised by Countrylink or contact any travel agent.
By bus
Bus services are far more widespread than the rail services, and are certainly a less expensive option than either air or train; the Australian term for a touring 'bus' is usually 'coach'. Touring coachlines exist in abundance and travel everywhere, but with a tour group. The main interstate operator is Greyhound (now merged with McCafferty's; t 1 300 473 946; website: www.greyhound.com.au). Other regional companies operate regular services, and are listed in the local phone book under 'Bus and Coach Services'.

Special bus passes, such as the Aussie Pass, offering unlimited travel up to 90 days, is available from Greyhound-Pioneer, and can be purchased from travel agents, both overseas and in Australia.

By car
Unless your time is very short or you are travelling on an organised tour, you will want to consider having your own transportation for at least part of your time in Australia. Car hire services are available throughout the country; the major companies, Hertz, Budget, Thrifty, National and Avis, are all represented here, and offices appear at all airports and in most towns. All reputable car hire companies will include insurance coverage in the rental price. Check the on-line rental prices at home before arriving, since local prices seem rather high; tourist deals may be better for overseas visitors. Many cities also have local firms, most of which are better value than the big companies, and often include 'rent-a-wreck' options for rock-bottom prices. Tasmania is especially geared towards tourist car hire companies, since so many visitors arrive by air or boat without a car; many hire companies are available, and bookings can be made through the Tasmanian tourist offices on the mainland before departing for the island. It is also possible to rent Campervans and motorhomes from reputable agents, although these can be expensive.

If you plan to spend more than a month or so in Australia and wish to engage rather thoroughly in local colour, it is worth considering purchasing a second-hand vehicle and selling it near departure. The local newspapers will be overrun with ads for used motorcars in all price ranges. Sydney also has car markets established especially for visitors, where good car insurance can also be purchased. Try Backpackers Car Market or Flemington Car Market. The important thing to remember when making such purchases is to check the vehicle registration sticker; if it is about to expire, you will have to pay for registration as well, which can be expensive. It is strongly recommended to pay the relatively small additional charge to join any one of the automobile clubs (NRMA in New South Wales, the RACV in Victoria, the RAA in South Australia, the RCA in Western Australia, the RACT in Tasmania, the RACQ in Queensland). They cooperate to provide excellent free road service anywhere in Australia t 13 11 11. Membership of other countries' automobile clubs often provides reciprocal arrangements in Australia. While a foreign driver's license is valid for those visiting for a short time, each Australian state has different regulations concerning the length of time one can validly use it. (In the ACT, for example, it is only three months.) Consequently, it would be advisable to acquire an International Driving permit if a longer visit is planned; such a permit is valid everywhere for at least 12 months.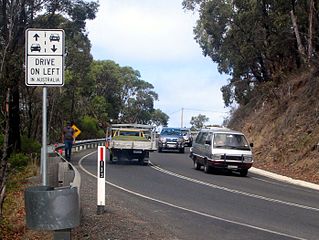 Remember that Australians drive on the left-hand side of the road, as they do in Britain and Japan. This might help: the driver is always in the middle of the road and follow the tail-lights.
Especially in less traveled regions, keep you eyes open for the older timber or stone bridges. If you are a serious fan of these structures, Colin O'Connor's Spanning Two Centuries is a thorough and pleasant description of Australia's historic bridges.

Health standards in Australia are very high, with no major problems with water supply (even when it tastes bad) or infectious diseases. Unless the visitor has travelled to an infected country within 14 days of arrival in Australia, no vaccinations are required for entry. Complacency among the population has led to a decrease in standard immunisations for childhood diseases, a problem that has led to recent outbreaks of whooping cough and measles; but the situation is now being addressed. One of the most prevalent health issues in Australia is allergies and asthma; the country has the highest rates of these afflictions. Many medicines for allergies and hay fever are consequently available over the counter at pharmacies, as are 'puffer' sprays for asthma sufferers.
Drug laws are undergoing some liberalisation, but marijuana is still illegal in most places, as is heroin, although some states are experimenting with services for habitual users. Australia has one of the lowest rates of AIDS in the world, because the safe-sex message was spread very early; condoms and, in many places, needles are available free from health agencies and AIDS centres. Condoms can also be purchased in public vending machines and at convenience stores and chemists' shops.
Healthcare services are excellent and readily available, although sparse in the outback, where the Flying Doctors' Service still reigns. Malaria has been known in the northern sections of Queensland and the Northern Territory. More significantly, this region is the location for the tropical diseases Ross River and Dengue fever, also spread by mosquitoes; recently, some outbreaks of the disease have occurred as far south as Sydney. It is relatively rare, but one should always use insect repellents containing DEET, against mosquitoes and ticks.

The biggest health problem is skin cancer. Australia's rate is the highest in the world, caused by the overwhelming amount of fierce sunshine and the country's proximity to the so-called ozone hole near Antarctica. Sun protection, in the form of sun-block lotion (promoted by the government's 'Slip, Slap, Slop' campaign advertised everywhere) and the wearing of sun-hats, is essential and should be observed even on cloudy days; these precautions are required for children at school, and any light-skinned European or American can be seriously burned in a very short time. Always wear sun-block for outdoor activities.
Intense heat may also cause prickly heat, an irritating skin rash, or sunstroke, which can be quite serious. Drink lots of water and avoid over-exposure.
The scaremongering myths concerning the dangers of Australian wildlife are highly exaggerated, even a bit of braggadocio. Venomous spiders and snakes are usually quite reclusive and if bitten, anti-venom is available (there have been no fatalities for either redback or funnel-web spider bites since the anti-venom was introduced). Shark attacks are exceedingly rare;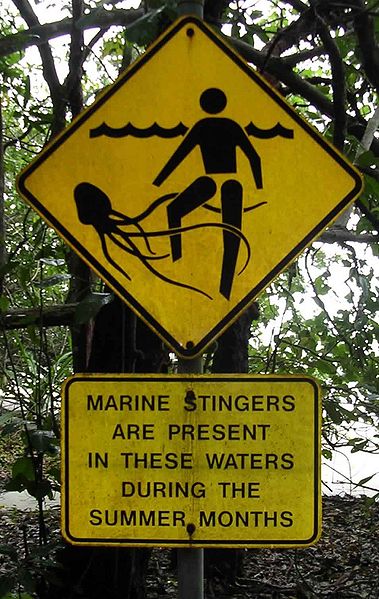 and only a fool would get close enough to a crocodile to cause any worry. That said, get local advice before swimming in the north of the continent. The estuarine crocodile (affectionately known as the saltie) lurks in the river systems there and are responsible for one or two fatalities each year.
The only frequently occurring dangers are box jellyfish, known as sea wasps, that invade the summer waters along the beaches; and the often terrifying 'rips' and 'dumper' waves that suddenly occur even at the most benign beach. Just use common sense and heed the signs posted at patrolled beaches. Drownings at Australian beaches occur, but very rarely between the posted flags. If you see jellyfish in the water, do not get in; this warning will unfortunately apply during much of the summer in Queensland. Do what the locals do when it comes to big waves: stay within the flags posted by lifeguards, and get out when the announcement is made to do so. This last tip is very, very important; please take heed.
Australia has a national health scheme, Medicare, that has reciprocal agreements with the UK, New Zealand, and about a dozen other countries. Citizens of these countries can use public hospitals and casualty centres, and will have a major portion of visits to doctors reimbursed (a doctor's visit costs about $35 at the time of writing). People from these countries staying for a longer period can obtain a Medicare card at any Medicare Centre, which will speed up the processing of treatment. Citizens of Canada and the United States are strongly advised to obtain travel insurance before coming to Australia.
When travelling in the vast expanses of the outback, serious precautions must be taken concerning notification of your movements to authorities along the way. Sometimes there will be no facilities or services for hundreds of kilometres of rugged track. Always carry water and provisions, check with sources concerning the conditions of the track, and do not depend entirely on mobile phones. Notify people where you are.


Crime
In the major cities, all the normal crimes of contemporary city life occur, although the numbers are decidedly lower than most European or American cities, and even notorious locations such as Sydney's King's Cross are relatively tame. Gang- and drug-related crimes are on the increase, but need not be a major impediment for visitors. Take the same precautions as you would in any city, and avoid the few known 'danger zones', especially at night. Alcohol-fuelled violence in the form of the 'blue' or punch-up is a long-standing tradition in some neighbourhoods and bars at the weekends, but usually do not involve anyone but locals. Recent well-publicised incidents of attacks against and even murders of tourists indicate how relatively rare such events still are.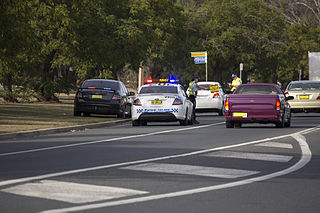 Police throughout the country are strenuous in their crackdown on drink driving, with frequent random-breath-test stations along the roads, and speeding, so obey the laws when on the road. In most states, the legal limit for driving after drinking alcohol is 0.05, the equivalent of one standard drink in an hour, and penalties for conviction can be severe. Hitchhiking is not recommended, although it is not illegal, and many people still do it. Take normal precautions if attempting to hitch-hike, particularly by travelling in pairs.
Sexual harassment of women and racial abuse do occur, but stringent anti-discrimination laws are in place, and one can report any incident to each state's Human Rights and Equal Opportunities Commission. To report any crime, contact the local police. In the case of rape—one crime that unfortunately does rate rather highly in the statistics—contact the local Rape Crisis Line immediately 1 800 737 732. They will help you and help you report to the police.


Telephone and postal services
Both postal and telephone services are in the process of being privatised and 'rationalised', and service has subsequently suffered; many small post offices have been closed recently, and the local GPO now looks more like a gift shop or card dispensary. Local letters need a $1.00 stamp. International vary a bit, but to the US or Europe, the stamp costs $2.95. Package rates are astronomical; you would be advised not to mail books home, as the price for mailing is based on weight and is expensive -- up to 20 kg. to the US is about $24.00, $42.00 express, to UK and Europe about $28.00, $46.00 express. Abandon your clothes and take your books and pressies in your luggage -- 23 kg. is the usual acceptable return weight. Check with your carrier for the exact weight and charges for heavier bags.
Stamps can be purchased at news agencies and in machines in shopping centres and railway stations. You can receive mail at any post office if sent to 'Poste Restante/GPO' and the name of the place.


Additional information
Newspapers and mass media
Australia has one national daily newspaper, The Australian (which also has The Weekend Australian edition); it is geared towards the business community, and is also the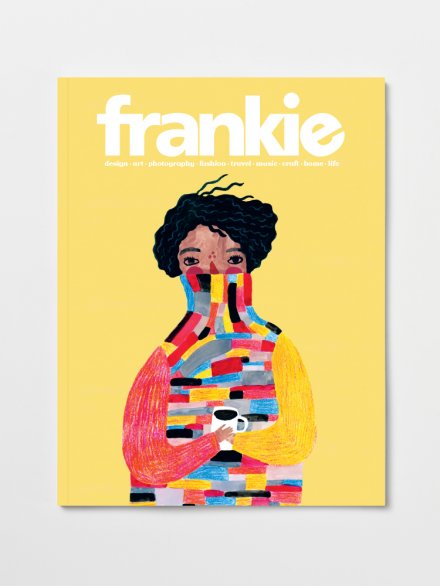 source for news of and positions listings in education. Sydney's The Sydney Morning Herald and Melbourne's The Age are also widely available throughout the country in news agencies. Each capital city has its own newspaper, concentrating for the most part on local issues and wire-service reports. Brisbane's Courier-Mail is more than reactionary politically, and should be consulted only for entertainment listings; and Adelaide's one newspaper, The Adelaide Advertiser, has now gone tabloid (perhaps inevitably, since Rupert Murdoch's media empire began here). The Financial Review is the most trustworthy business paper, and also includes thoughtful articles on cultural topics. Of the numerous magazines published The Monthly is by far the most respectable. Frankie, a popular art and design monthly, gets an affectionate nod.

International papers are also widely available in the capital cities. Weekly news magazines include Australian editions of Time and Newsweek/Bulletin. While Europeans may find international news less comprehensive than at home, Australian coverage of international events is superior to that of most American newspapers or television, and the normal person on the street far better informed than the average American. The Australian approach to Asian events is particularly insightful.
Australian television consists of five stations, three commercial, plus the national broadcaster ABC and SBS, the last an amazing multi-cultural station which broadcasts news in several languages and offers an abundance of foreign-language films and current events programmes (the latter has commercials, but only between programmes). SBS also has a radio station, broadcasting in over 35 languages. The ABC radio station JJJ (Triple J) broadcasts to the more discerning young listener. Other ABC radio stations include a classical music format and an all-news frequency. PNN is the parliamentary network, broadcasting sessions from parliament. Pay television, after protracted battles and much ambivalence, is now available in some cities. Otherwise, television coverage leans heavily towards sports and imported (British and American) programmes; Australian comedy and current event programmes are worth watching, if only to gain insight into Australian attitudes, and numerous travel and 'infotainment' programmes offer good tips and sights for the tourist.
Opening hours
Public institutions such as town halls and council offices are usually open 09.00 –17.00 weekdays. Banking hours are 09.30–16.00, Monday to Thursday and 09.30–17.00 Friday. In larger cities, some bank branches are open Saturday morning, and country branches at general stores and news agencies may be open longer hours. Museums and galleries are normally open 10.00–17.00 weekdays and weekends, with some having evening hours. Smaller galleries, historic houses, and tourist attractions may have erratic or infrequent opening times; as far as possible, this guide will try to provide accurate times, but these may change according to funding and availability of staff.

Traditionally, shops are open 10.00–17.30. Late-night shopping occurs on Thursdays or Fridays, depending on the state, when the major stores are open until 21.00. Shopping hours on Sunday is the subject of ambivalent debate—although many establishments have resisted, you will now find many shops and stores open for business on Sunday, at least in the cities and larger towns, and in the shopping malls. Most small businesses will be closed on Saturday afternoons, and even the large chain stores will close by 17.00 or 18.00, except during the pre-Christmas shopping season.


Australians revere their days off, so much so that much of the Republican debate centres on the dilemma of losing the Queen's Birthday as a national holiday. This holiday, on the first or second weekend in June, involves lots of fireworks, so is a favourite with children. As visitors to the country, you will be welcomed to every holiday event. The list below does not include some regional or local show days and the like. The only days when all public institutions, including museums and tourist venues, are guaranteed to be closed are Christmas Day and Good Friday.
Public holidays, when public services are closed or on holiday schedule, are as follows:
1 January New Year's Day All States

26 January Australia Day All States

Second Monday in February Regatta Day Tas

Launceston Cup Tas (north only)

First Monday in March Labour Day WA
March 8 Canberra Day, Canberra only

March 8 Labor Day Vic

Second Monday in March Adelaide Cup

Second Monday in March Eight Hour Day Tas

Labour Day Vic

19 March Canberra Day ACT
March/April Good Friday All States
Easter Saturday, ACT
Easter Monday All States
Easter Tuesday Victoria

25 April ANZAC Day All States
1 May May Day NT Labour Day QLD Adelaide Cup Day SA
First Monday in June Foundation Day WA

Second Monday in June Queen's Birthday All States but WA

Fridays in July Show Days in areas of NT

August Bank Holiday ACT

First Monday in August Picnic Day NT

Second Wednesday in August Royal Queensland Show Brisbane only

September Melbourne Show Day Melbourne only

September 27 Family Day, ACT only

First Monday in October Labour Day NSW, ACT, SA Launceston Show Day Tas (north only)
First Tuesday in November Melbourne Cup Day Vic (Nearly everyone celebrates the late afternoon race by watching or listening to it)
25 December Christmas Day All States
26 December Boxing Day All States but SA
Additional Day NSW, NT
26 December Proclamation Day SA

School holidays vary from state to state, but usually occupy six weeks in the summer, through Christmas holidays and January; two weeks around Easter; two weeks in July; and two weeks in September. During these times, everyone seems to be on the road, and it is essential to make advance bookings for accommodation, whether in caravan parks, camping sites, or motels. Be sure to check on school holiday schedules before travelling anywhere.
It is a great Australian holiday tradition, one that apparently is nearly obligatory, to stuff all the children, and probably the pets as well, into the car and drive somewhere other than home for many hours in tremendous traffic jams causing overheated vehicles and frayed nerves. This is especially true on Boxing Day (26 December), when traffic can be bumper-to-bumper from Sydney to the Gold Coast, and at the beginning of the Easter holidays, during which time the Hume Highway from Melbourne to Sydney can sometimes be backed up for 10km. January is the month when very little business is accomplished, as everyone goes on holiday. Forget about any kind of transaction between Christmas and New Year, except of the most basic sort.
The other specifically Australian holidays are Australia Day, 26 January, which commemorates the arrival of the First Fleet in 1788; and Anzac Day, 25 April, the most patriotic celebration, in honour of Australia's soldiers and particularly the war dead of World War I. If possible, try to experience Anzac Day in a country town, with a small parade and a ceremony at the local war monument; the experience offers much insight into the Australian character. A tradition on the day is to play the simple gambling game called Two-Up. It's not really legal, but hardly an Australian can be found who doesn't know the rules and have a story about having played the game.

When possible, a holiday will be pinned on to the beginning or end of a weekend, so even non-moveable feasts will sometimes be moved for the sake of a three-day weekend.

Festivals

Listed below are the major festivals throughout Australia, both those that have international recognition and others that you may want to note if you are in the area. They have been listed chronologically, as they occur throughout the year. Do check the dates for your visit as they sometimes vary a bit.

The Nariel Creek Folk Festival. Nariel Recreation Area, Victoria.
Held on the week overlapping New Years Day, the festival's bands play Australian Bush Music as well as European (particularly British) and American folk music. Bush music, the Australian equivalent of folk music, is generally based on late 19C popular dance music and, in the best of circumstances, one learns the steps in a country woolshed during a local fête. The new ballads are often quite topical. While it is possible to attend for a day for $7.50, a $20 entrance fee entitles you to camp at the festival for the entire week.

Bundanoon Highland Gathering, NSW; New Year's Day.
A revelry of Scottish sport and dance, Australia's Highland Gatherings began in 1869 at the Albert Ground in Redfern. Short of a trip to Braemar in Scotland, a more enthusiastic revival of Scottish culture would be hard to find. Activities include tossing the Caber (something like throwing a tree) and the Braemar Stone, shot putt and tug of
war. Highland dancing and music and traditional clothing abound as do stalls selling Scottish merchandise and food.
Summer Nats, Canberra, first week of the year. Rev heads from far and wide hang out on Northbourne Ave. to watch the souped up cars drive by. The main events are at Exhibition Park. The proceeds go to a children's charity.

Sydney Festival and Carnival. Sydney, month of January ending on Australia Day weekend.
The city's biggest arts festival, encompassing theatre, opera, art exhibitions, international cultural performances, ferry boat races and children's events. Something to suit everyone's tastes (and pocketbooks), a great summer festival, beginning with the unforgettable fireworks display over the harbour on New Year's Eve and ending with more fireworks on Australia Day.
Schutzenfest (target shooting). Hahndorf, SA, second Saturday in January.
In addition to competitions restricted to members of Australian German clubs, an open competition has brought serious target shooters from across Australia.
Tamworth Country Music Awards and Festival. Tamworth, NSW, Australia Day weekend (26 January).
Begun in 1973, this ten-day festival attracts nearly 50,000 stalwart Country and Western (or Bushband) music fans. The Town Hall and the Workman's Club are the main venues, but every sports ground, pub and most sidewalks feature entertainers of varying degrees of professionalism. The televised Country Music Awards are aglitter with national and, increasingly, international performers.
Sydney Gay and Lesbian Mardi Gras. Sydney, end of February.
A parade down Oxford Street in a Mardi Gras spirit, now 20 years old. Throngs (and, thongs -- in keeping with the tone) of every stripe, up to 700,000, pack the street for the world's largest night-time parade. Caricature and camp vie with physique and feathers.
Adelaide Fringe Festival. Adelaide, SA, late February to early March, even-numbered years.
An iconoclastic alternative to the Adelaide Festival, this fête begins with a parade ending at Rundle Street where outdoor stages present contemporary, experimental and novice acts. The shows continue for a month at local venues and are generally either free or quite inexpensive.
Evandale Village Penny Farthing Championships. Evandale, TAS, last weekend in February.
Continuing a hundred-year-old competition as an excuse for a festival, the races include the one-mile championship, 200m sprint, a slow ride (last bicycle across the line wins) and a remarkable slalom. In keeping with the historical theme, Morris dancers, horse and cart rides, and revitalised costume are noteworthy features.
Chinese New Year. Melbourne, usually early February.
Perth International Arts Festival
. Perth, WA, February.
Organised by the University of Western Australia, the festival is a Western Australian version of the Adelaide Festival directed to the general music listener. It prides itself on introducing new popular bands and classical music to new audiences. Free concerts at the Supreme Court Gardens and alfresco dining in trendy Northbridge are extremely popular. The concert venues include His Majesty's Theatre and modern theatres at the University.
Adelaide Festival. Adelaide, SA, early March.
Australia's premier arts festival includes music, dance and theatre performances and art exhibits. The purpose-built Festival Centre is the festival's home, but venues include outdoor performances at the Botanic Gardens and along Rundle Street Mall and stages in numerous pubs and clubs. In addition to performance, the festival provides forums for artists and writers to discuss their craft.
Moomba Water Festival. Melbourne, early March, ending on Victorian Labour Day.
Devoted largely to free entertainment, Moomba (meaning either 'let's get together for some fun' or 'to moon') presents fireworks, concerts, a Labour Day Parade and sporting events.
Man from Snowy River Bush Festival. Corryong, VIC, early April for six days.
Remembering Andrew 'Banjo' Patterson's poem "The Man from Snowy River', the festival commemorates Jack Riley's working life as a legendary stockman who rounded up and broke brumbies (wild horses living in the mountains). Events include a four-day trail ride and the thrilling Jack Riley Cup. The latter is a race across broken and hazardous terrain. More sedate events present whip cracking, foot races, a variety of humorous competitions like hat and gum boot throwing and a Drover's Dance.
Melbourne Grand Prix. Melbourne, late March.
Recently moved from Adelaide, this is the first Formula One automobile race of the international season.

National Folk Festival. Canberra, ACT, Easter weekend.
The Australian Folk Trust takes pains to attract as diverse an ethnic representation as possible. As a consequence, traditional musicians and dancers from throughout Australia perform.The event is consciously child-friendly and includes Punch and Judy shows, storytelling, sleight of hand and similar entertainments for them.
Blessing of the Fleet. Ulladulla Harbour, NSW, Easter Sunday.
Begun in 1956 when a visiting priest convinced fishermen in the local fleet to have their boats blessed, the current activities include a parade, yacht races from Sydney and Bateman's Bay, festooned fishing trawlers and quantities of fresh fish.
Barossa Valley Vintage Festival. Barossa Valley, SA, Easter Monday.
Naturally, centred around wine tasting, the festival includes a huge parade along Barossa Valley Way, a Grape Treading Championship in several heats, a street market, and casual dining.
Melbourne International Comedy Festival. Melbourne, three weeks starting just prior to April Fools Day.
Humour is a serious business. The festival provides young performers and writers exposure both at numerous public venues and in the media. Established international performers use the festival as an opportunity to visit Australia.
Camel Cup. Todd River's dry bed, Alice Springs, NT, 10 July most recently.
Initiated by a bet between cattleman Noel Fullerton and Keith Mooney-Smith to race camels down Todd Street (now Todd Mall), the Lions Club has sponsored the races since the early 1970s. Most entertaining, and a fine opportunity to put in some bets, the races are diverse and a number of novelty events are included.
Grenfell Henry Lawson Festival of the Arts. Grenfell, NSW, 376km west of Sydney, Queen's Birthday weekend (first or second Monday in June).
Henry Lawson, one of Australia's favourite late 19C poets, was born in Grenfell in 1867. The town commemorates the event in a series of readings and exhibits with substantial cash prizes. On the Sunday Guinea Pig Races near town raise a substantial amount of money for local charities.
Barunga Sports Festival. Barunga, NT, early June.
Aboriginal music, dance and crafts frame the events which include both traditional sports like firelighting and spear throwing and modern sports including football, softball and athletics. Permits are not necessary during the festival; bring your own camping gear; alcohol is not allowed. Most folks either camp in the town or take a Bodhi Bus from Katherine hotels. Check with Nitmiluk Tours, they used to run camping tours from Darwin.

Sydney Film Festival. Sydney, early June.
The festival premieres feature films, documentaries and shorts. Most of the documentaries and shorts will not be generally distributed, making the festival the single best opportunity for young film-makers to display their work.
Cape York Aboriginal Dance Festival. Laura, QLD, north of Cairns, last weekend in June in odd-numbered years.
Like the Barunga Sports Festival, this is an excellent opportunity to be at ease among Aboriginal people. The dances are traditional with complex body painting and are judged by elders. Arts and crafts, an open air cafeteria and some athletic competitions occur as well. Camping is necessary, no alcohol is allowed.
Melbourne Film Festival. Melbourne, July.
About two weeks of film culture with cash prizes to winners in a number of categories including documentaries, animation, experimental and student films.
Darwin Beer Can Regatta. Mindil Beach, Darwin, NT, late July or early August at the neap tide.
A series of frolicsome events providing an excuse for a good time. The openbottomed boat races—Henley-on-Mindil—along the beach and the regatta of silly boats made of empty beer cans are the tops of the day.
Birdsville Races. Birdsville, far western NSW, first weekend in September.
Birdsville's 100-plus residents host several thousand horse-racing fans, many of whom fly in for the event in private planes.
Floriade. Canberra, ACT, mid-September to mid-October.
An extensive floral display centred on plants propagated from tubers and bulbs, the festival is organised by the city in Commonwealth Park on Lake Burley Griffin. A number of sculptural works are commissioned as well.
Bathurst 1000. Bathurst, NSW, second Sunday in October.
Stock-car motor racing on Mount Panorama attracts large crowds.
Time zones
Australia has three official time zones, plus one small local time zone. Eastern Standard Time (EST) operates in Queensland, Australian Capital Territory, New South Wales, Victoria and Tasmania. Central Standard Time (CST) encompasses South Australia and the Northern Territory, and is half an hour behind EST. Western Standard Time (WST), two hours behind EST, is in Western Australia. The local time zone, Central Western Time, operates from 3km east of Caiguna in Western Australia to the South Australian border; it is 45 minutes ahead of WST.
The situation gets more complicated in summer: New South Wales, Victoria, Tasmania, Australian Capital Territory, and South Australia adopt daylight saving time by putting the clock ahead one hour from the first Sunday of October to the first Sunday of April; but the Northern Territory, Queensland and Western Australia do not. It is possible at certain times of the year to have as many as six different times across the continent.
Religion
While being the most secular of societies, Australia's religious tolerance is an essential aspect of its culture. Traditional British ties see Anglicanism as the establishment religion, but it is by no means the only form practised. Except for some early antagonism to Irish Catholicism by the English overseers and some Lutheran sectarianism in the South Australian colony, Australians have never been interested in strenuous religiosity, so people are free to worship as they please as long as they do not impose on others. Virtually all denominations are represented in the population: major Islamic mosques and Hindu shrines exist in the cities, many synagogues are architectural landmarks, and Wollongong is now home to one of the largest Buddhist temples in the world. Forty per cent of the population are nominally Roman Catholic, a reminder of the pervasive influence of the Irish in early Australian history; these numbers, of course, also now include those of the many other Catholic groups.
Protestant denominations, faced with dwindling congregations, have carried out a uniquely Australian endeavour. While the dominant Church of England and the relatively strong Baptist Church remain as separate entities, the so-called 'non-Conformist' groups of the Methodists, Congregationalists, and most Presbyterian congregations, merged in the 1970s to become the Uniting Church; thus a number of historic churches which used to be one of these denominations are now called a Uniting Church. The fascinating story of this event, and the means by which their separate theological views were merged, can be found in Darcy Wood's Building on a Solid Basis (1986) and Bentley and Hughes' The Uniting Church in Australia (1996). Church services are listed in the Saturday editions of most newspapers.


Australian attitudes towards providing service are deeply ingrained and say much about the Australian character. The custom of tipping, for example, is not at all required. In restaurants or in taxis, one may give a small tip, usually rounded up to the nearest dollar, more as a convenience than an acknowledgement of service. The waiter and taxi driver are properly paid, like other workers, so tips are not expected by service people, who may actually consider it offensive to be offered such a sign of servitude. Where one sits in a taxi also demonstrates this approach: a single person is usually expected to sit in the front with the driver, otherwise it appears the person is putting on airs (although recent violence against taxi drivers in some cities may be changing this custom).
At best, service in restaurants is informal and friendly, but it does not seem to be part of the Australian character to serve. Perhaps it is best to keep in mind that the Protestant Work Ethic is not an Australian cultural trait; this is not to say that Australians do not accomplish things or work hard, they just do it at their own pace and without the driven intensity of some other cultures. As Ilsa Sharp points out in her book Culture Shock! Australia: A Guide to Customs and Etiquette (1992), such an attitude may be a result of the convict past and the extreme sense of egalitarian democracy that permeates all of Australian culture.
Australian columnists frequently remark on the lamentable state of service even in the most popular tourist areas, and the tourism industry is making great efforts to change the situation, with some success. Screaming or demanding service will do no good; just relax, and if you need to return a dinner, or find something really wrong with your meal or hotel room, be friendly and gracious in your requests and carry on conversations with whoever is involved, and you are likely to get something accomplished. Service is not usually surly, just cavalier. Australians are for the most part affable and friendly, and will be more than helpful with any problem, as long as they feel they are on an equal footing with the person asking for help.
Sports of all kinds are absolutely central to Australian life, whether as spectator or participant; even those who are not sports-minded are affected by its pervasive influence in society. Major moments in Australian history have been defined by sporting achievements. Because of its dominant position in Australian culture and history, the development of individual sports and sporting events are discussed in depth in the relevant touring sections of this book.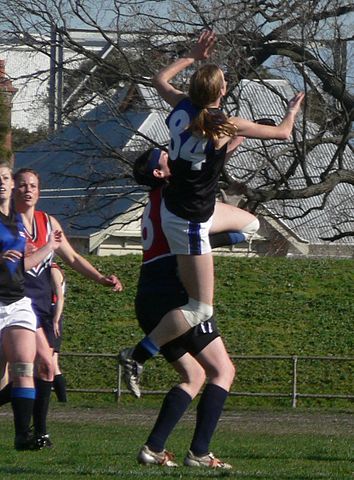 Suffice it to say that facilities for the performance of virtually every sport known to man—and that includes hurling, curling, tae kwon do, underwater hockey, netball and darts—can be found throughout the country (a local Finnish couple were national wife-carrying champions, indeed, if anyone finds a sport that is not represented in this country at some level, please inform the authors!). Many sports, even ones not normally associated with Australia such as ice hockey, will be played on an organised level of some kind. Every city and town will have at least one sports oval (a playing field) for team play, a golf course, a racetrack, a swimming pool. Canberra was not considered a real community until its Rugby League team won a national championship (in 1989). Children's participation in sports is actively encouraged, and on any weekend afternoon, every oval will be crammed with youngsters and parents involved in some kind of team play. Go ahead and stop to watch for a moment while eating the routine snag (grilled sausage) and fried onions on a slice of white bread, usually served with sweetened milky tea or even a beer on early Saturday morning. The beaches offer facilities and equipment for all water sports, including the rental of scuba and surfing gear. The ski resorts in the Snowy Mountains and Tasmania offer world-class lifts and equipment hire, even if it seems bizarre to be wedeling among the kangaroos and gum trees.
World-renowned golf courses as well as humble countryside venues attest to golf's status as the premier participatory activity for the average Australian. Melbourne's famous ring of sand-courses rank as among the world's great golfing experiences. Again, give it a go; most courses have reasonable green fees and some sort of collection of clubs to rent.

One cannot really speak yet of a specific Australian cuisine, although styles of cooking have changed so dramatically in the last twenty years that a true 'food culture' now exists, at least in the cities, and continues to grow with an exciting amalgam of Asian and European methods and ingredients; the term 'Pacific Rim' cuisine is beginning to be used to describe these new hybrids. Unlike the lamentable state of dining in the recent past, Australia now presents some of the best eating experiences in the world. International gourmet critics regularly rate some Australian restaurants at the top of their lists. Australian agricultural and food products now win international awards.
Traditionally, Australian food followed British customs: eggs and bacon or sausages (called 'snags') for breakfast, 'meat and two veg' for dinner (with potatoes as one of the vegetables), cakes for tea. The only spurts of culinary creativity occurred in the field of desserts, the Australians loving their cakes, slices, and scones. Every country-fair cake stall or afternoon tea-tray included the Lamington, a yellow sponge cake coated in chocolate and sprinkled in coconut; and Anzac biscuits, cookies with brown sugar, coconut and oats. Another favoured sweet has been the pavlova; apparently created in New Zealand (although this is the source of heated debate between Australians and New Zealanders) in honour of the Russian ballerina Anna Pavlova when she toured the region in the 1920s, it consists of meringue, whipped cream and fruit. While beef is eaten in great quantities, lamb was, and still is, a very prevalent meat. To the delight of those from countries where lamb is an expensive luxury, it is still tremendously affordable: a whole lamb bought for a barbecue will usually cost less than the price of a leg of lamb in the United States.
As popular imagery suggests, the barbecue is indeed an institution in Australia. 'The prawn on the barbie' is rarer than may be expected. Most barbecues involve lamb or beef, hamburgers, sausages, and the ubiquitous fried onions, the smell of which is a quintessential Australian experience. Many city parks have built-in barbecues for public use.
A brief history of Australian food
Historically, the colonists were dependent on what humorist Sam Orr calls 'the great Australian tradition of living off rations'. Rather than learn from the natives about how to live off the land, the First Fleet nearly starved on a diet of salted pork and dried beans while they waited for supplies to arrive from England. They planted seeds in sandy soil at the wrong time of year, the livestock fled and became the wild game that eventually fed bushrangers. This attitude continued well into the 20C; as late as the 1960s a cookbook discussing Australian food stated that what seafood Australians ate was often imported from Britain or America.
The absurdity of this adherence to the food from 'home' is nowhere more obvious than at Christmas time, when tradition demanded the entire English ritual, from stuffed turkey to Yorkshire pudding, despite sweltering temperatures that made the kitchen an inferno and suggested a trip to the beach rather than the burning of a Yule log. Today, many Australians have opted for a more appropriate meal of seafood, oysters, and cold meats; some still cling to the traditional meal, but may choose to cook the turkey on the Weber barbecue in the back yard.
Forty years ago, dining out was not a normal pastime. The only restaurants were in hotels, although every small town, especially in Victoria where Chinese arrived with the 1850s gold rush, seemed to have at least one Chinese restaurant, serving food which had nothing to do with anything ever served in China. Standard fare at hotel restaurants was meat and potatoes, and occasionally battered fish. Pubs also provided (and still do) 'counter lunches', consisting largely of sandwiches, eggs, and cheese, and washed down with quantities of beer (not wine).
It was the arrival of continental European immigrants after World War II and, more recently, the influx of a large Asian population, that brought about the dramatic changes in Australian eating habits. The Italians introduced cafes with cappuccino, the Germans delicatessens with a variety of meats and cheeses, the Greeks fresh fish, and the Asians spices and exotic dishes of all sorts. By the late 1970s, Australia's burgeoning sense of national identity coupled with its multicultural diversity began to pay off in culinary terms. Restaurant culture blossomed, with every possible kind of experimentation with new ingredients and a mixing of cuisines. A startling example of how recent an occurrence this is can be seen in Ruth Park's Sydney travel guide of 1973, where not a single Thai restaurant is listed; today there seems to be one on every street. Today Australian cities offer superb dining possibilities, taking advantage of the country's abundant crops of fruits and vegetables, and its incomparable seafood.
International nouvelle cuisine, of the meagre portions and expensive prices, made a momentary appearance in the pretentious 1980s, having the positive effect of nurturing a new generation of innovative chefs. If nothing else, this movement emphasised the desirability of fresh produce, a principle now well-established in all good restaurants and shops. In the major capitals, chefs are now lionised the way rock stars used to be.
Cooking in the home has also been affected by this culinary eclecticism. According to Cherry Ripe, author of Goodbye Culinary Cringe (1993), a 1991 survey revealed that 65 per cent of Australians cooked stir-fry at least twice a week, an astonishing figure in a country where twenty years ago spaghetti was considered an exotic dish.
Most intriguing is the current attempt to integrate 'bush tucker', native ingredients prevalent in Aboriginal diets for millennia, into contemporary dishes. Kangaroo, emu, and crocodile as meats; quandong, wattle seed, and rosella tree as condiments and salsas now appear on the menus of many restaurants, and several speciality shops even sell widgety grub soup and wattle seed coffee.
One culinary institution that continues in a variety of forms is the takeaway shop. The traditional takeaways still exist, doling out such truly Anglo-Australian items as the meat pie with tomato sauce (ketchup) and chips (french fries), as well as an inexplicably popular Australianised spring roll known as a Chiko roll (considered surfie fare). A specifically South Australian takeaway speciality is the 'floater', a meat pie swimming in mushy peas. But all manner of other takeaways, from health food to Mongolian barbecue, are popping up everywhere. Greater awareness of healthy eating habits has also led Australians to exploit their natural abundance of organically-grown produce and herbs, making the country much more amenable to vegetarians and other conscientious eaters. Fast-food outlets of all sorts are also available in abundance, decried as evidence of the Americanisation of Australia.
This healthy-food transformation has not, unfortunately, reached the countryside, where, as one Australian writer put it, the 'great battered food syndrome' of fried and overcooked food prevails. Still there are encouraging signs even in the outback, with some excellent restaurants venturing into the void. Be prepared, however, to survive on greasy fare, canned goods and very few vegetables in the country towns. In the outback itself, it is probably advisable to cook your own food over the campfire.
As far as foods for special occasions is concerned, the most established tradition must be roast chicken, strawberries and champagne on Melbourne Cup Day (both at the race and elsewhere). Other menus are perhaps not as elegant.

Bush Tucker

Much is said, but little experienced... Bush foods, usually wild-grown indigenous Australian plants and animals, are not easily come by, mostly due to limited availability. That said, a number of plant species are now under cultivation and in the shops.

Bunja nuts. From a coniferous tree native to Queensland (Araucaria bidwillii), the nuts taste something like chestnuts with a bit of pine. They are served roasted, sliced, pureed and milled to a flour. The Aborigines even fermented them.

Davidson plum (usually Davidsonia jerseyana, but sometimes the taller Davidsonia pruriens). A burgundy-colored, pleasantly sour fruit from an increasingly rare tree in nature, though now cultivated for the fruit.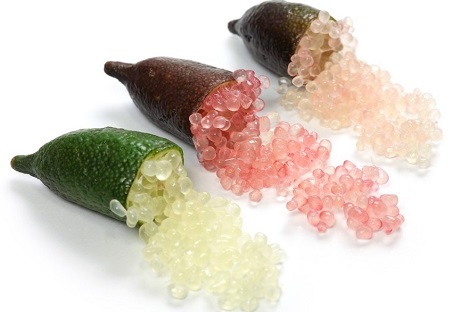 Finger lime (Citrus australasica). Called lime caviar, the tiny globes in each finger produce a surprising burst of floral citrus taste when eaten. They are increasingly popular as an addition to just about any fresh food -- salads, cocktails, garnishes. They also make a fine marmalade and even a dried spice.
Lemon myrtle (Backhousia citriodora). Used like any other herb, it gives a novel and pleasant aromatic lemon-lime-like taste to salad dressings, gin cocktails and the like. It is also encountered in health and beauty products due to its anti-septic properties.

Muntries (Kunzea pomifera). These green with a red tinge berries slightly larger than peas, taste a bit like crunchy spicy dried apples. They are packed with antioxidants.

Quandong (Santalum acuminatum). Looking quite like a pomegranate, the fruit tastes like an astringent (high vitamin C) peach or rhubarb. The seed which is high in oil content is also eaten.

Warrigal greens (Tetragonia tetragoniodes). Also native to New Zealand, Japan, China, and Argentina, this attractive ground-cover is eaten like spinach. It is often blanched and rinsed before being cooked to remove bitterness, especially in older leaves.
Wattleseed. Roasted and ground, the seeds of the Acacia trees are used as a nut-flavored addition to baked goods or as a thickener.

Of the animals, emu, kangaroo and wallaby are routinely available. They are dark and lean, quite similar to deer or elk, the wallaby being more delicately flavored. Incidentally, emu is occasionally served raw and has a texture similar to sashimi tuna. Wild barramundi has a marked flavor something like mushrooms, moist flesh and medium to firm texture. More difficult to obtain: Anagsi oysters have a clear marine flavor with a mineral finish; Magpie goose is said to have a pleasant if decided fish-like taste; Western Australian specialties include Marron, a crayfish, and a deep-water perch called Dhufish.

Breakfast
Unless you are in the cities where breakfast cafes do exist, the morning meal is not one that Australians regularly eat in restaurants. They do have traditional British breakfasts (American-style bacon does not exist), but nowadays simple croissants, cereal, toast with a smeer of mashed avacdo, or even sandwiches are more common fare. Muffins or scones are not considered breakfast food, although they will probably be available in most cafes that would be open in the morning.
Other interesting items often appearing on breakfast menus include baked beans or spaghetti on toast—and, of course, the ubiquitous Vegemite. For British visitors used to such spreads as Marmite, Vegemite will not seem so unusual, but to the rest of the world, this yeast-based, salty brown smear is either something one must be weaned on or it is a decidedly acquired taste. Australians swear by it, and hoard provisions of it when going overseas. On the road, many motels and hotels offer breakfast service to your room. It should be ordered the night before, and usually consists of cornflakes, eggs and toast. In most cases, rooms will be provided with instant coffee and tea bags. Very few will have restaurants open in the early morning; even when restaurants do serve breakfast, it is rare, at least outside the big cities, to find one open before 08.00 or 09.00. There are all-night truck stops along many highways, but the food is either of the fast-food variety or quite grim and to be resorted to only in emergencies.
Lunch and dinner
In restaurants, it is not common to find a separate lunch and dinner menu, although bistros seem to be picking up on the idea. What is served at lunch will usually be the same, with the same price, as what is served for dinner. One cannot assume, then, that lunch will be a less expensive option for dining out. The 'official' lunch hour for office workers is 12.30–13.30, although most restaurants will serve lunch from 12.00–14.00. Dinner in restaurants usually begins service at 18.30 and normally ends by 23.00, perhaps later in the cities.
The use of the term 'tea' to refer to a meal can lead to some confusion for the uninitiated. While 'afternoon tea' refers to a small meal of biscuits and cakes to accompany a cup of tea, 'tea' itself often refers to the full evening meal. The term is now more likely to be used in the country, although regional usage varies. In the cities, the term for the large meal of the day is normally dinner. If asked to tea, one depends on the time of day to anticipate what is likely to be served.
What in America would be called an 'appetizer' is in Australia the entree, or first course. In most restaurants, it is possible to order a main course in a smaller portion as an entree. For the most part, dining out in Australia is a relaxing and casual experience, even in the most elegant places, and in the cities, has become a leading leisure-time activity. Only the fanciest restaurants will require men with ties and women in dresses. The more common 'dress code' requirement will be that a shirt and shoes must be worn!
Coffee and tea
Coffee, since the arrival of Italians and other migrant groups in the 1950s, is now excellent, with real cappuccino and espresso served in many places. Instant coffee, however, has a pretty strong hold even at some trendier cafes, where they often use the cappuccino machine only to foam the milk, so be sure to ask if they make 'real' coffee before ordering. Tea is still drunk with great enthusiasm at all times of the day. The so-called 'Devonshire tea', tea with scones and jam and whipped cream, is all the rage and can be found at nearly every kiosk, tourist restaurant, and small cafe. But it does appear that coffee drinking is replacing the 'cuppa' in many places. Fifty years ago, Australians drank ten times as much tea as coffee; today, the figures have reversed, with three times more coffee consumption than tea.
Beer
In terms of drinking habits, the traditional image of the beer-guzzling Australian is changing as well (except in the Northern Territory, where beer consumption per capita is among the highest in the world). Pub culture has a completely different tone since the infamous 'six o'clock swill' ended in 1966. Before that time, pubs closed at 6 pm, resulting in the clamour of workmen between 5 o'clock and 6 pm, downing as much beer as was possible before staggering home. Beer is still the main alcoholic refreshment; while most Europeans will find Australian beer surprisingly bland, it is more potent and interesting than American beer. 'Boutique beers' have now become popular and are worth a try at the pub or restaurant where they are made. Some bigger brands to savour are Cooper's from South Australia, Cascade from Tasmania, and Redback from Western Australia. Otherwise, beer brands are tribal: Queenslanders drink Fourex (XXXX), Victorians drink VB (Victorian Bitter) or Carlton, New South Welshmen drink Toohey's or Resch's, and Territorians drink it all. Foster's appears to be drunk specifically in the more upscale pubs, despite what the overseas advertisements say.
Wine
Serious wine culture has also grown with the food revolution—a recent phenomenon, despite the fact that wine has been cultivated in Australia since the 1790s, and the major wine-producing regions of the Hunter Valley in New South Wales and the Barossa Valley in South Australia have been producing world-class vintages for 150 years. Aside from these famous regions, Australia now has wine-producing areas throughout the country, most notably in the Margaret River region of Western Australia, Rutherglen district of Victoria, in Tasmania, and even very good products from around the ACT (Australian Capital Territory). Indeed for many, tasting the variety of superb Australian wines has become a major preoccupation.

The popularity of Australian wine abroad, both in Europe and America, has led to ever-increasing yields and experimentation among the major vintners. Of specific interest is the fact that Australian winemakers have never been afraid of mixing wine types; it is common to see a wine bottle labelled as 'Shiraz-Cabernet-Malbec', leading to unusual new tastes. Every wine lover, even the most discriminating, will be impressed with the variety of Australian vintages. While the portable wine cask carton is an Australian invention, and acceptable vin ordinaire can be found in these modest containers, reasonably priced wines with well-rounded taste such as Wolf Blass's whites and reds, Jacob's Creek, and Orlando are perhaps a better suggestion for the discriminating palate on a limited budget. A second, and similarly sensible innovation is the screw top. Considered scientifically, a cork in a bottle meant to be drunk within the next 5 years is an affectation.

Of course, prestige vineyards produce devastatingly expensive wines as well, most famously Penfold's Grange Hermitage, so sought after that their yields disappear almost immediately at enormous prices; the 2010 Grange is now selling for as much as $775 a bottle, if it can be found. But even Penfold's produces a huge range at all prices, all of which should be tried. One of the most exciting experiences for a wine lover is to sample the smaller vineyards' yields; almost all wineries happily welcome visitors to their tasting rooms, and the experience can be the discovery of surprisingly mature and unusual tastes. A very good suggestion is to buy the current copy of each city's Cheap Eats or Good Food guides, available at news agencies and book stores. Other restaurant guides abound, especially in Sydney and Melbourne, and newspapers provide current reviews of restaurants, old and new.


As George Turner states in The English Language in Australia and New Zealand (1966), 'The homogeneity of Australian English is remarkable. It would be difficult to find elsewhere a geographical area so large with so little linguistic variation.' While idioms and some words may vary from region to region and urban-rural distinctions exist, the Australian accent is essentially the same from Hobart to Perth to Cairns, despite Australians' insistence that they can tell the difference between a South Australian, Victorian and a Sydneysider. The accent and pronunciation, however, is distinctive, and was commented upon in print as early as the 1820s. Linguists maintain that its development originated in the Cockney and Irish English speech patterns of the early convicts and settlers. Aboriginal words have also entered the language, most specifically as place-names and for plants and animals, e.g. 'kangaroo' and 'koala'; Aboriginal speech patterns also provide some variation from 'standard' Australian English. The use of the Australian accent by comedians such as Barry Humphries and Paul Hogan, while not entirely inaccurate, exaggerates the sound and idiom of contemporary Australian English, which is indeed undergoing lexical change spurred by the arrival of new ethnic groups and Americanisms learned from the mass media. Australians do say 'g'day, mate,' 'no worries' and 'fair dinkum' quite regularly. In some cases, terms are British, e.g., 'nappy' not 'diaper', 'petrol' not 'gas,' and in other cases, American, e.g, 'truck' not 'lorry'; 'cookie' is making inroads, although 'biscuit' is still preferred usage. Pronunciation is equally schizophrenic, e.g., complete variation on whether one says 'CON-troversy' or 'con-TRO-versy'. In the case of place-names, wait until you hear a native pronounce it, since anyone else's choice will invariably be wrong by local custom, and you probably will not have even thought of the 'correct' pronunciation. Two major cities, however, are pronounced MEL-burn not Mel-BORN, and BRIZ-bin, not Briz-BANE. The national capital is CAN-berra, not Can-BERra. Terms for the sizes of beer glasses is very regional, and too complicated to explain here, but a 'tinnie' is universally understood as a can of beer.
An Australian glossary
Below are a few specific usages and phrases that may be unfamiliar to other English speakers; it is interesting to note how many of these unique terms and expressions are irreverent or derogatory.
arvo -- afternoon, often meaning afternoon tea. This is one of the more convoluted examples of the Australian penchant for making anything into a diminutive by placing an 'o' or 'ie' on the end, e.g., 'garbo' for garbageman, 'bikie' for a motorcycle gang member, 'postie' for the mailman, 'smoko' for a coffee or smoke break, 'aggro' for aggravation. Aussie pronounced OZie.
back o' Bourke -- Beyond the Black Stump, the boondocks, back of beyond, the outback.
BIRs -- as found in rental ads, it means 'built in robes', that is, closets.
bitumen -- asphalt, asphalted, or 'sealed', road.
Buckley's -- as in 'haven't got Buckley's'; haven't got a chance. The term supposedly refers to the most famous of the so-called 'wild white men', William Buckley, an escaped convict who lived among the southeastern Aborigines for 32 years before being discovered in 1835. This popularised origin is disputed by Sidney J. Baker in The Australian Language (1966), maintaining instead that the term probably derives from a pun on the name of a Melbourne retail company, Buckley and Nunn; this derivation would explain the phrase, 'there are just two chances, Buckley's and none'.
bugs -- as in Balmain or Moreton Bay bugs, crawfish.
to cark it -- to die.
chook -- chicken, most specifically living, not cooked, ones.
chunder -- vomit.
cozzie -- swimming costume, or swimsuit; also called 'bathers'.
dag, daggy -- nerd, nerdy; unattractive.
drongo -- a fool, no-hoper; after a horse in the 1920s, who consistently lost every race in the most ignominious fashion. A very derogatory expression.
dunny -- outdoor toilet.
entree -- what in America would be called 'appetizer' or first course; what in America is the entree is in Australia the 'main', or main course. In Australia, the word is never accented.

esky -- portable ice chest invented in Australia; absolutely essential for any barbecue or event requiring cold beer.
fair dinkum -- genuine, the real thing; as a question, it has the connotation of 'really?'.
fritz -- South Australian for a cold-cut, like the American bologna or English devon.
galah -- (accent on second syllable), a pink and grey bird found everywhere, but also a noisy person, or, as in 'dumb as a galah'; galahs are supposed to be particularly stupid birds.
grouse -- far out, cool; most prevalent in Victoria.
hoon -- a fool; more specifically, a car-based yobbo, a cruiser, frequently seen in groups of threes and fours at events such as Canberra's Summernats, hanging out of car windows and burning rubber.
jelly -- gelatine dessert, 'Jell-o'; American-style 'jelly' as in 'peanut butter and jelly' does not exist, although jam does.
Kiwi -- a New Zealander.

knock up -- wake up, as in "I'll knock you up in the morning."

larrikin -- mischief-maker, frolicsome youth; larrikinism is a much-beloved Australian form of anti-authoritarianism.
lollies -- candy, sweets, as in lolly-pops

mad as a meat-axe -- crazy, insane

manchester -- household linens, sheets; derived apparently from the traditional place of origin for textiles in Australia.
ocker -- a redneck; currently used infrequently.
paddock -- a field, usually for grazing, as in the oft-quoted 'Canberra is a waste of a good sheep paddock'.
perve -- to take a licentious peek, as a voyeur, e.g. 'look at them perving the women'.
petrol -- gasoline, as in 'petrol station'.
pissed -- drunk, not angry as in the USA; 'pissed off' is angry.
Pom -- as in whingeing Pom British, who are widely believed to be complainers.
prawn -- one throws a prawn on the barbie, not a shrimp.
rego -- motor vehicle registration.
root -- vulgarly, to have sex; just remember that one does not 'root' for one's team, one 'barracks'!

Seppo -- an elaborate example of the survival of Cockney-style 'rhyming slang': Yank = septic tank = septic = seppo, a very derogatory and seldom-used expression for an American. Another example of rhyming slang is 'trouble and strife' = wife.

spit the dummy -- throw a tantrum. A dummy is a baby's pacifier.

squatter -- originally referring to those free settlers or native-born who moved into newly opened territories and placed themselves upon public lands before any established land policy made such a practice illegal. While in America and England the term usually has pejorative connotations, in Australia squatters quickly gained status as those who settled and occupied great expanses of land for the purposes of sheep-raising and farming. The 'squattocracy' describes the old landed money of the country.
station -- equivalent to the American 'ranch', the latter a term which is never applied to Australian property.

stoked -- happy or excited.

stone the crows -- amazed.

tall poppy -- high achiever; a common Australian pastime is to 'cut down tall poppies', that is, cutting overachievers down to size.
throw a wobbly -- to have a temper tantrum.

tucker -- food

Wog -- derogatory term for migrants, usually of Mediterranean descent; the oft-heard phrase 'to catch a wog' means to be sick, indicating the possible origin of its later definition, as 'wog' initially referred to 'germ'. Many of these New Australians are now so firmly established in the culture that ethnic humorists can themselves make fun of this epithet, as in Greek-Australian comedian Nick Giannopoulos' 'Wogarama' and 'Wogs at Work'.
wowser -- teetotaller, killjoy; coined in 1889 by John Norton, the notoriously pugnacious and dissipated editor of the newspaper Truth. Other variations include wowserism, and even 'to wowse'.
ute -- short for 'utility', a pick-up truck.
yacht -- ALL sailing vessels are yachts; 'sailboats' is considered American usage.
yakka -- work 'hard yakka' is hard work.
yobbo -- usually 18- to 24-year-old male, out for general mayhem; also any uncouth person.
---
The illustrations in this guide are generally free to use if attribution is given. Most come from WikiCommons where the particulars of each image's rights and permissions are described. We have made a serious effort to list all of the illustrations in each site at the end of that page.
Guide
800px-Wine_mt_markey.jpg --
Fir0002
Coastine_golf_australia.jpg --
JChris007
800px-AWM_Canberra_Dawn_25APR05.jpg --
Peter Ellis
800px-PrincesHighwayMoruya.jpg --
AYArktos