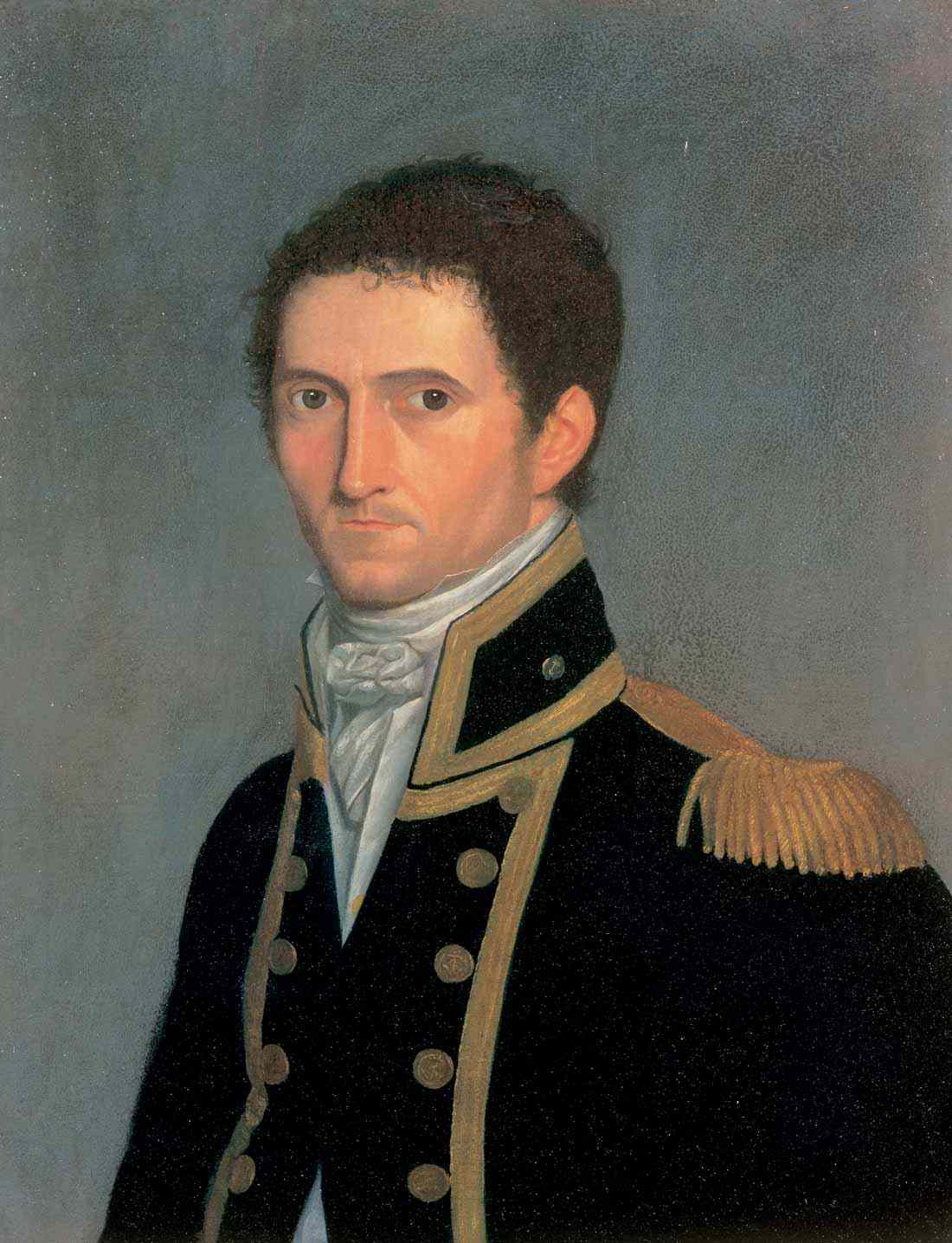 Matthew Flinders (1774–1814) is one of the most intriguing naval explorers associated with the early Australian expeditions. Born in Lincolnshire, England, into a family of surgeons, he took to sea after reading Robinson Crusoe. He joined the Royal Navy in 1789 and sailed with Captain Bligh's second voyage in 1791. He sailed to Sydney with Captain Hunter aboard the Reliance in 1795; it was on this voyage that he met George Bass, the ship's surgeon. They struck up an alliance that led to their joint explorations of the Georges River and the south coast of Sydney. In 1798, the pair, in command of the Norfolk, circumnavigated Tasmania by passing through the Bass Strait, which Bass had explored in 1797. They returned to Sydney in January 1799, having made some of the first detailed surveys of the Tasmanian coast and establishing Flinders' reputation as a superb cartographer. After a return trip to England in 1800 where he married, Flinders received command of the Investigator with instructions to explore the entire coast of New Holland, as it was still called. He completed this circumnavigation on 6 December 1803, completing records so accurate that they are still used by the Royal Australian Navy. He was the first person on record to apply the term 'Australia' regularly to the continent.

Remarkable also on this voyage was the botanical and biological work carried out by the expedition's appointed draughtsman, the Viennese Ferdinand Bauer (1760–1826). Bauer made over 1000 drawings, meticulously rendered and later hand-coloured according to an elaborate colour gradation system devised by the artist. His publication in 1815, Illustrationes Florae Novae Hollandiae, was not a financial success but his works are now recognised as the most precise and aesthetically pleasing examples of natural history painting ever produced. Flinders named Cape Bauer on the South Australian coast in his honour, and his name is perpetuated in several Australian plants.
Upon his return to England in 1803, and unaware that war had broken out between England and France, Flinders called in at Mauritius (then known as Ile de France) to make repairs on his ship, only to be imprisoned for almost seven years. He finally returned to London in 1810, where he completed his remarkable A Voyage to Terra Australis at the end of 1813. His health had been ruined in captivity, and he died on 18 July 1814, only 40 years old, before he saw the first copy of his beloved book.

The inclusion of Flinders' cat in the memorial is an appropriately affecting one. Trim was born a seafaring feline in 1799 aboard the Reliance, when Flinders commanded a supply ship to South Africa. He accompanied his master on the voyages of the Norfolk and the Investigator, thus circumnavigating the world. In 1809, Flinders wrote an affectionate and delightfully informative 'Tribute to Trim', describing his unique qualities as a feline sailor. During Flinders' detention on the Ile de France, Trim disappeared without a trace; Flinders wrote, 'My sorrow may be better conceived than described.'